Late last year, I was making a purchase at Shoppers Drug Mart, a Canadian drugstore chain, and the cashier (who's a pretty awesome lady and I'm pretty sure she knows I like to buy beauty products a lot!) brought to my attention a charity purchase they were running.
The thing is, the charity purchase wasn't for candy, or a sticker, or whatever they usually give you for these kinds of things. It was for beauty products. Hello!
I'll be honest, I was distracted by the goodie bags on display and totally forgot what the charity was. I have a feeling it was a women's charity, which would make sense as the purchase was for a small assortment of skincare samples, and as a pharmacy, Shoppers has a Women's Health initiative, to which you can also donate your Optimum Points. Actually, now that I think of it, I made the purchase in October (that's the datestamp for the photos I took), which means it was probably for Breast Cancer Awareness.
There was a line behind me, so I didn't want to spend too long fussing over which goodie bag to get. I picked one and ponied up the $10 donation.
Everything came in a reusable zippered pouch with a Nuxe label on it or something; I didn't take a photo of it, and have since forgotten where I put it. The three product samples I got were:
Avène Hydrance Optimale Hydrating Serum (5 mL)
Bio Beauté by Nuxe Vitamin-Rich Detox Mask with Orange Water (15 mL)
La Roche-Posay Toleriane Dermo-Cleanser (50 mL)
They all seemed nice for my dry skin type, and while I have tried and liked some La Roche-Posay products in the past, I had never tried Avène and Bio Beauté by Nuxe, so I was psyched to give them a try.
Today's review is for the La Roche-Posay Toleriane Dermo-Cleanser.
Sadly, this post marks a new entry in my small Epic Fail category.
Toleriane Dermo-Cleanser is white and milky in texture, with no noticeable scent. Good so far, right?
Now, when you have a dry skin type, cleansers marketed to you are usually of the cream variety. I have a love-hate relationship with many cream cleansers. On one hand, they are not usually too drying, and sometimes they even leave my skin feeling moisturized. On the other hand, they are also usually not very good cleansers, meaning I need to remove my makeup and grime first, with a different type of cleanser, then use the cream cleanser.
This Toleriane Dermo-Cleanser doesn't work on either point. Doesn't moisturize, doesn't cleanse.
The instructions are to apply the cleanser, then either rinse it off with water or wipe it off with a cotton ball. I hate the wipe method, so I tried rinsing, first.
The stuff does not rinse off. Like, water does nothing. So that's a waste of time. You have to wipe.
I also tried this cleanser with and without makeup on. With makeup, it was an unmitigated disaster, because it just pushed my makeup around and I couldn't really get everything off by wiping.
When I tried it without makeup on, I realized just how nasty this stuff feels on the skin. Not only does my skin not feel clean after using the Toleriane (even without makeup on!), it feels like I've loaded it with something gross. There's this horrible, plasticky-feeling film left all over the skin.
WHAT THE HELL. I have to cleanse before using this. And then I have to cleanse again to remove its stupid, non-moisturizing, plasticky film?!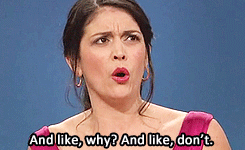 I don't believe I've ever hated a cleanser more, and that includes the time a Bliss cleanser gave me a terrible, flaky rash after a couple of days.
Ugh, you could not pay me to use this stuff again.
I'm not a wasteful person, and I always like to find a way to repurpose stuff I don't like. Face creams become body and hand creams, etc. But I literally have no idea what to do with this stuff except chuck it. Thank goodness it was just a sample.
Ingredients from La Roche-Posay USA:
Wate/Aqua [sic] • Ethylhexyl Palmitate • Glycerin • Dipropylene Glycol • Carbomer • Sodium Hydroxide • Capryl Glycol/Caprylyl Glycol • Ethylhexylglycerin.
♦♦♦♦♦
La Roche-Posay Toleriane Dermo-Cleanser contains 200 mL and retails for US$23.99 / CA$23. It's cheaper in Canada! (My sample size was 50 mL.) It is dermatologist tested and free from preservatives.
La Roche-Posay Laboratoire Dermatologique was founded in 1975 by Rene Levayer, a French pharmacist. The thermal spring water used in their products has been used as a skincare product since, as legend has it, it was first used in the 1300s by a French knight on his eczema-ridden horse. (Yep.) The company has been owned by L'Oréal since 1989.
🇫🇷
Company based in France